Write the first paragraph of your page here.
Section heading
Edit
Write the first section of your page here.
Section heading
Edit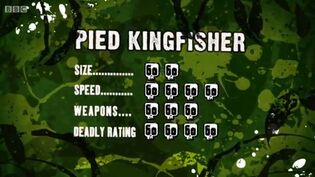 The Pied kingfisher,
Fantastic helicopter hovering ability: a lethal hovering harpoon,
Plummets with pin point accuracy from out the from sky: Plummeting out of the sky with pinpoint accuracy,
Snatches unsuspecting prey from under the water: and snatching fish from under the surface of the water.
It won us over with its sublime skills, Pied kingfisher definitely "DEADLY".
Ad blocker interference detected!
Wikia is a free-to-use site that makes money from advertising. We have a modified experience for viewers using ad blockers

Wikia is not accessible if you've made further modifications. Remove the custom ad blocker rule(s) and the page will load as expected.