Write the first paragraph of your page here.
Series 1=
Edit
The biggest spider in the world. A monster that doesn't only eat crickets and cockroaches, but mice, frogs, lizards and yes even birds. The Goliath bird eating spider, Deadly.
Pole to pole=
Edit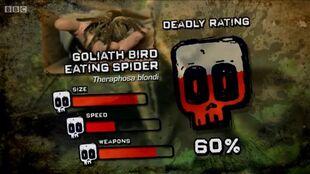 VICIOUS VEMON INJECTORS:
2cm long fangs,
SUPER SIZED: reaching the size of a dinner plate,
HEAVYWEIGHT HUNTER: powerful enough to catch and birds,
the Goliath bird eating spider is a unparalleled arachnid.
Ad blocker interference detected!
Wikia is a free-to-use site that makes money from advertising. We have a modified experience for viewers using ad blockers

Wikia is not accessible if you've made further modifications. Remove the custom ad blocker rule(s) and the page will load as expected.